Scaled Agile has released SAFe® 6.0, which offers the latest Lean-Agile practices to help enterprises deal with rapidly changing challenges and opportunities. This update is a comprehensive improvement from version 5.1, with many new advanced practices, and updates to the Big Picture and terminology. IBM Engineering Lifecycle Management (ELM) 7.0.2 now supports two new predefined process templates for SAFe 6.0: Full SAFe 6.0 and Essential SAFe 6.0. These templates can be used to configure the tooling environment for SAFe Portfolio, Large Solution, Portfolio, or Essential SAFe 6.0 configuration in ELM.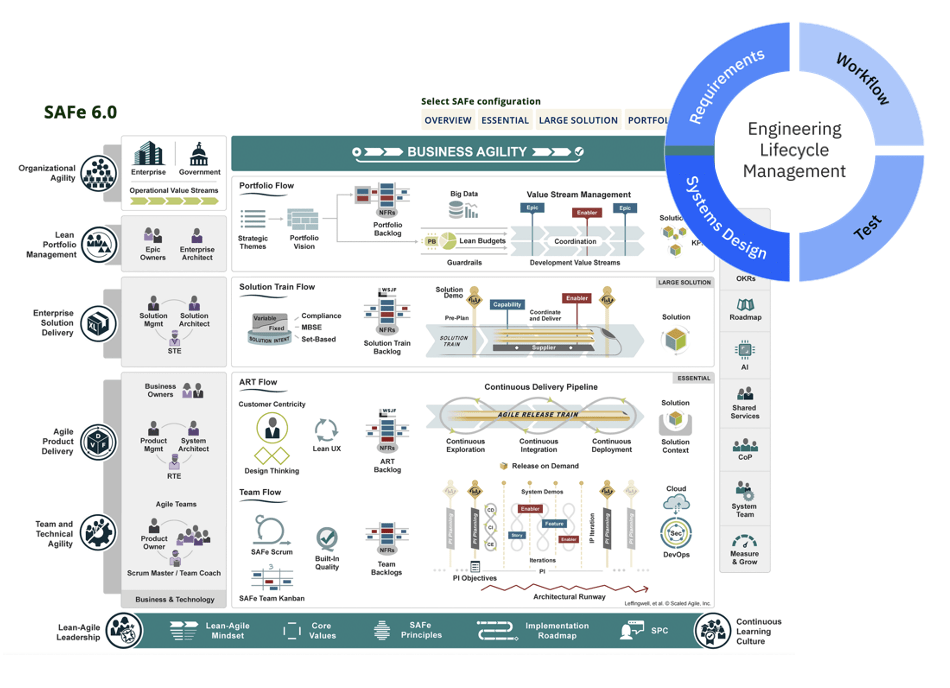 Some of the noteworthy new items in the SAFe 6.0 templates are:
OKRs support for defining clear goals and measurable outcomes.
Updates to strategic themes for improved business context and portfolio strategy.
New flow metrics reports for accelerating value flow.
Terminology updates for simplicity and clarity.
Updated roles and permissions to empower teams and clarify responsibilities.
Updated guidance for working with SAFe 6.0 templates.
SAFe 6.0 templates also support the SAFe 6.0 data model, which includes lean budgeting for organizations to adopt a financial governance approach that funds value streams instead of projects, accelerating value delivery and reducing overhead and other costs. SAFe 6.0 Flow Metrics JRS reports help measure the flow of business value through all the activities involved in producing business value through a value stream. The guidance on roles, key collaborations, and responsibility wheel has been updated to help teams improve their performance and better support the organization's goals. SAFe 6.0 templates have been updated to reflect the recommended terminology changes by SAFe 6.0.